An blogger friend of mine has a link up called life via Instagram and, since I now have an iPhone, I thought I would participate. If you'd like to join in click on the image below and link up.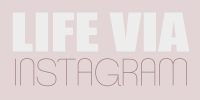 This past week has been crazy, not that you'd know it from these photos alone but here they go anyway.
Do you get the Val-Pak? It comes in the mail and is stuffed with coupons. It might be called something different where you live but, regardless, we got our a week ago. I've never been so scared by a dentists ad before. Yes, I understand how truly harmless it is but, do me a favor, laugh manically after you say this and THEN tell me it doesn't scare you.
We found this snake in our driveway. After figuring out that it wasn't poisonous we played with it a little before we released it in a field near our house.
Last Friday, before we bought our own boat, my husband and I went out on the lake with our neighbor and his kids. Despite the raging sunburn I got it was amazing.
Monday was TJ's birthday and we celebrated by buying a boat, which I don't have an original photo of yet, and going out to dinner at our favorite Thai restaurant.
Yesterday (Tuesday) my husband and I bought an appliance that we've always wanted. The Vitamix. I'm so excited about this purchase I can't even describe it.
I guess this isn't technically my life via Instagram as much as it is my past week via Instagram.